After last year's desert excursion (Burning Man 2011) and with our recent visit to 4th of Juplaya (2012), we decided that window tinting was now upgraded to a MUST HAVE to be able to survive in a metal tube (with glass windows) in the desert.
I picked up some 'somewhat' reasonably reviewed Gilla window tinting from Lowes (similar price to Amazon) and while it isn't rated for automotive applications, should work nicely on the RV application. It is an actual adhesive (not static cling) and installs just like it would on a car (soapy solution + plastic knife). The results have been quite decent for single pane glass. I first did a rear bedroom window (directly facing into the sun) and it made a 10-12 degree F difference in surface temperature (on the white mattress). The glass had a slightly higher temperature but when viewing from the outside, it is obvious that the tint/thermal management film is doing it's job (good rejection).
This, combined with the white painting that is happening, should DRASTICALLY improve interior temperatures of the coach in the summer heat in the desert. We don't often open the windows at Burning Man (bad dust) so having them closed with this film should help the situation. I'm hoping it will be decent enough for us to not need to run our solar reflectors (silver bubble wrap) inside the windows as well but we shall see. The overall 'tint' of the windows isn't that substantial however the reflective rejection properties are pretty decent.
For your consideration, tinted on the left, non-tinted on the right. Noticeable difference. I haven't tinted the upper smaller windows yet.
I should have the rest finished off in the next couple nights!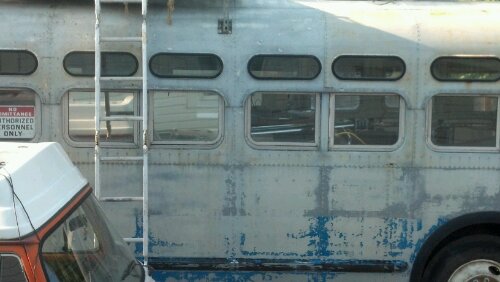 Thanks for checkin' in!