Well, it's been a long time coming however finally The Ghost is getting a much needed jump into a more recent decade. Previous owners had hacked together turn signals, brake lights, and marker lights to get the rig down the road. Since I am a firm believer in proper lighting, I used http://www.nhtsa.gov/cars/rules/standards/conspicuity/TBMpstr.html as a guide for a full system redesign. Since The Ghost is >30ft long, certain rules applied for lighting that it currently doesn't have.
On the list of things up replace/upgrade:
Convert x4 Brake/Tail red lights over to Red 4″ Grommet Mounted LED Lights
Convert x2 Rear Amber Turn Signals over to Amber 4″ Grommet Mounted LED Lights
Convert x2 Front Amber/Red Turn Signals over to Amber Rectangular Grommet Mounted LED Lights
Install Front Lower Side Amber Turn/Marker Lights
Install Mid Lower Side Amber Turn/Marker Lights
Install Rear Lower Side Red Turn/Marker Lights
Install Retroreflectors as required by guide above
Replace Bulbs in Clearance Lights with LED or Replace whole fixtures with LED
The previous owners had removed the factory front turn signals and since the originals are  impossible to find, I decided to install LED rectangular signals (closest match I could find that was reasonably priced). This required sawing a hole in the old turn signal 'cover' metal that someone had installed. Once that was finished, the lights simply popped into these holes and connection is made behind the dash and in the passenger side jockey box. It should be noted that using these locations requires some modification of the drivers side windscreen wiper bracket to allow the rather deep lights to fit far enough into the body to properly seat in the rubber grommets. Thinner fixtures would solve this problem as well.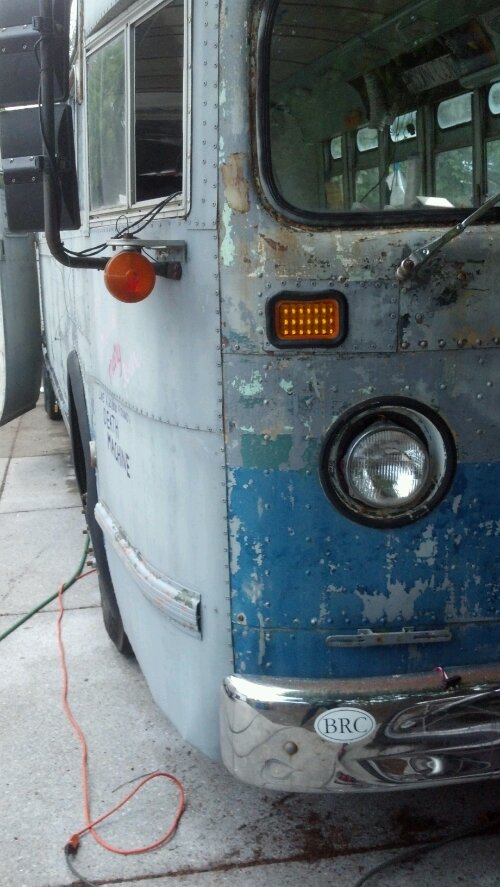 The rear lighting simply required moving the old incandescent fixtures, adjusting hole sizes, and mounting the 4″ round fixtures and their associated grommets. Since these are all LED lights, power consumption is so low that smaller new wiring is being run to feed the lights/relays for trailer connection. A LED compatible turn signal flasher is also required (cheaply available on Amazon/etc.)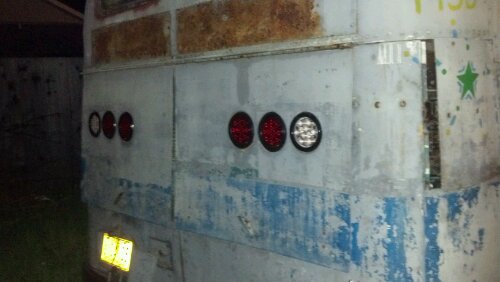 The stock rear lighting configuration (two small fixtures down low on the body) looks cool but functionally I'd expect people to smash into the back of The Ghost regularly if that is all the lighting I had. The previous owners installation of x4 brake/tail and x2 turn signals looks tacky but is very effective at catching people's attention (even over motorcycles/etc. mounted on the rear). With the LED conversions installed, things are VERY bright back there when on the stop pedal.
Steel armored side marker/turn signals were mounted low down on the side of the body (amber mid, amber front, and red rear) to provide the requirements for NTSB. These also aid greatly (properly connected) to indicate when executing a lane change if someone is sitting along-side the coach. To make this work, the side LED lights simply are connected one wire to tail light power, one wire to turn signal power. Resistors may be required depending upon the internal makeup of the lights, but this works nicely to help get cars out of the way when on the freeway. Lights were sourced off Ebay (Optronics model MCL86RB)
Overhead clearance lighting is functioning currently and since I recently sealed all the fixtures to the roof, I am inclined to continue using them but swap out the bulbs with LED conversions. I would only be tempted to replace these if I was able to source the original large clearance lights found on the bus in the 50's (unobtainium). No rush on these.
Retro-reflectors are being mounted in all positions where the associated marker/turn/tail light doesn't already have them built in. There are a few other locations that require a retro-reflector so I will add as necessary. These are very effective at lighting the coach in the event of a on-road power failure or when parked to prevent getting smashed into.
Overall fairly pleased with the conversion. It will be nice to leave marker lighting on when doing deep desert camping to prevent collisions without worry of draining down the battery.